---
Join us for "An Evening with Professor S. James Gates Jr."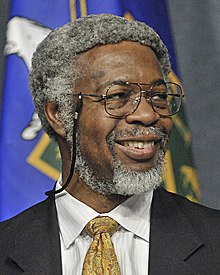 Dr. S. James Gates, Department of Physics and School of Public Policy, University of Maryland.
A pioneering theoretical physicist, Dr. Gates is one of the most distinguished scientists in the nation. He is Past President and Fellow of the National Society of Black Physicists and Fellow of the American Physical Society, the American Association for the Advancement of Science, and the Institute of Physics based in the UK. He is an elected member of the American Academy of Arts and Sciences and the American Philosophical Society. He was elected to the National Academy of Sciences in 2013, becoming the first African American theoretical physicist to be recognized in the 150-year history of the Academy. Dr. Gates served on the U.S. President's Council of Advisors on Science and Technology in the Obama administration and was awarded the National Medal of Science by President Obama. Dr. Gates will reflect on his path through supersymmetry in space-time, advising President Obama on Science and Technology, and working to increase diversity in Science.
Admission is free and open to everyone. More information here.
Mission
Nationally recognized for teaching excellence; internationally respected for research advances; a focused emphasis on interdisciplinary study and close student-faculty collaboration; committed to a diverse and inclusive environment (see our Diversity Action Plan).
---