Dr. Michael Font — Wake Physics class of '11 — is a practicing anesthesiologist in Des Moines, Iowa. Prior to that he taught biology to middle schoolers in Washington, D.C.. In this interview Professor Kim-Shapiro discusses with Dr. Font the development of his career and how his studies in physics helped him.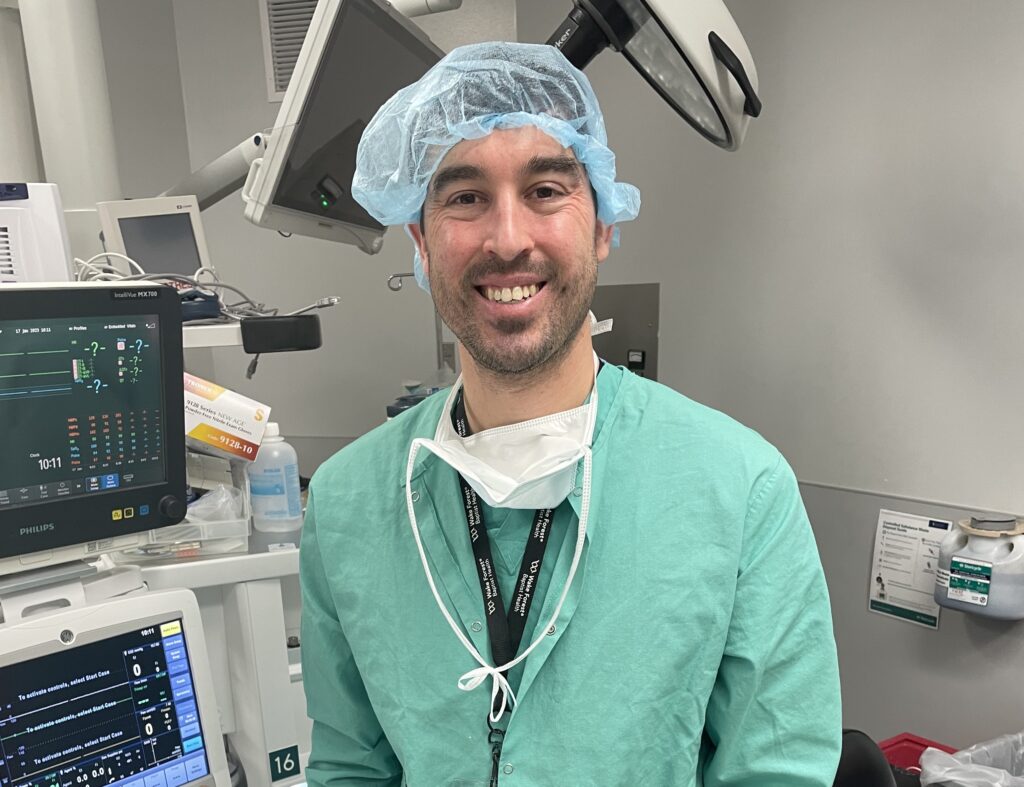 Prof. Kim-Shapiro: What are you doing now career-wise?
Dr. Font: I am an anesthesiologist practicing in Des Moines, Iowa. An anesthesiologist is a physician that takes care of patients during surgery. I am part of a large practice that does both inpatient surgeries in a large hospital and outpatient surgeries at surgical centers. On any given day I might be taking care of a 2 year old who needs a fracture repaired, an 80 year old requiring open heart surgery, or a new mother who is giving birth.
Prof. Kim-Shapiro: What did you do right out of Wake Forest?
Dr. Font: I joined Teach for America and taught science at a middle school in the Washington, D.C. area. I started in the Summer of 2011, right after graduating and worked through Summer 2013. Over the first summer, the new TFA members go to teacher training at the TFA summer institute–there we learned the basics of teaching and learned the practical aspects by teaching a summer school course and getting continuous feedback. After training, I was assigned to teach 7th and 8th grade Science in a new charter school in Laurel, Maryland. For the 7th grade class, I taught Physical Science (Chemistry and Physics) and the 8th graders learned Biology. Teaching was tough but rewarding. There was a steep learning curve, especially in the first year, but I found the experience rewarding and I think my students were well-
prepared for their future high school science classes.
Prof. Kim-Shapiro: How did Wake Forest Physics help you get where you are today?
Dr. Font: In medical school, residency, and in my practice, there are a few applications of physics (e.g. basic ultrasound physics for echocardiography), but otherwise I seldom use most of the physics concepts I learned. The main value of the physics degree was that I learned to approach any intellectual problem with confidence and figure out the tools to work through it. There were many instances at Wake where I didn't immediately understand a new concept (I spent many nights in the library with the electrodynamics textbook), but by breaking down a new concept into its simple premises, you learn how to master complex topics. Medical school required absorbing a huge amount of material, but none of it was nearly as challenging as the upper level physics classes. Cardiology, Neurology, physiology, etc, all had new concepts to be integrated, but the Wake Forest physics degree had given me the skills to approach them with confidence.
Prof. Kim-Shapiro: Is there anything you would like to share with prospective or current students?
Dr. Font: Many students who are considering a field in Medicine tend to gravitate toward biology or Pre-Med degrees. I am glad that I studied something else in undergrad. I had a ton of fun in my physics studies and made great memories. I was no less prepared than anyone else upon entering medical school. For students who are considering other competitive careers (Law, consulting, etc), a physics degree can help in many ways. You will always stand out from other applicants, as there are few physics majors across the country. Recruiters will assume that you're smart and hard-working. Before deciding on Teach for America, I interviewed with management consulting companies. I was invited to these competitive interviews even though I had no business experience, because these companies are always looking for smart students with analytical thinking skills.